The good news is that I was offered a permanent position at the company where I am currently a consultant. Great benefits and a nice salary increase too. The bad news is we decide to put our dog to sleep. Remember him?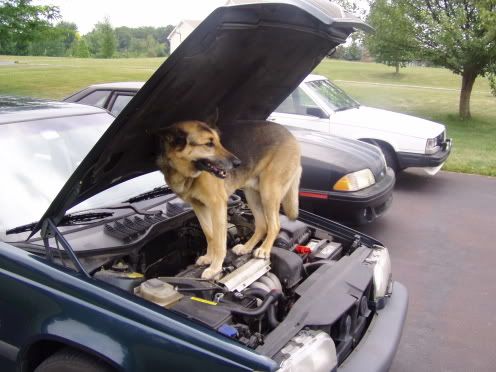 And his car destruction!
He's going deaf. He can't really control his back legs or his bowels anymore. His "character" has changed over the last year to nervous and clingy. He is getting unpredictable in his reactions to the kids. We can't really take the risk of him hurting KitCat because he has a very strong bite. He has also taken to wanton, random destruction of the house. He's 13 and has had a good run, including hitting a car and being attacked by a bobcat! He is both the smartest and the dumbest dog I've ever known, and I will miss him greatly. If you've read
Marley and Me
, he's only slightly better behaved than Marley.
The boys are very upset, of course. He's been there their whole lives. We've been going though and showing them pictures from his lifetime. He's a very photogenic dog, so I enjoyed taking pictures of him through the years. We've been telling the boys stories of his mischief in puppyhood and his young life, and the boys are assembling a book of stories and pictures about him.
My friend is a veterinarian. He will come to our house and put him to sleep at home, so it is less stressful for him. We are still debating the procedure surrounding it and how involved the boys will be. What are your experiences with children 7 or 9 and family pets being put to sleep?