Hey gang...I have been having a great time here in the Philippines...so much to see and do. The diving here is absolutley world class. Here are a few pictures:
This is as we approached Puerto Galera.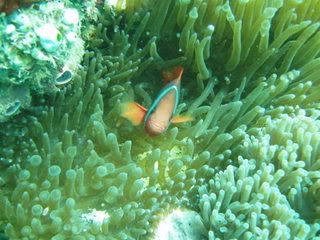 A small fish guarding its "nest" which is an anenome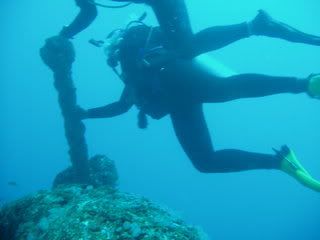 Here are a couple of our divers hanging on to a piece of a wreck at about 90 feet...we were caught in a raging current that eventually swept us to open water where our boat picked us up. (Don't worry...we actually planned this)
Verdi Island. Probably the finest scuba dive I have ever had. Absolutely spectacular underwater "cliffs" (walls) and living organisms on every single inch.
Here is a journal entry that I sent to my wife Bonnie...a recap of our experience on Verdi Island:
Wow...what a day! We planned a special side trip to Verde Island. As usual, it was the 4 amigos and the two gals (two SF cops). The first dive there was one of the most spectacular dives any of us have ever been on. Even Steve and Rick with 500+ dives each were hard pressed to remember a better one. The wall was amazing...hovering over 300+ feet of blue water with a wall literally covered inch to inch with life. Our first dive went really well. Verde is known for highly technical, challenging diving and we found this to be true in our second dive. Essentially we did the "same" dive as the first one, but came to the end point from the opposite direction as the first. We were swimming along around 75 feet when I stopped to take some pics. The group went on...no sweat, the visability is so good that you can always spot your buddies. However in this case, the wall took a sharp turn (like going around the corner of a building). So, figuring that there was only one way to go...I "followed" the course. I was starting to pick up some drift and compensated by kicking a bit harder...then, I saw bubbles...being blown totally sideways and thought..."holy _hit, what could be causing that"?. A minute later I found out. I saw Scuba Steve and Rich literally clinging to anything they could hold on to to stay on the wall. We were caught in a tremendous down current. In a matter of seconds, I was pushed to 90 feet...10 feet deeper than my planned depth. I angled up and started kicking as hard and fast as I could. I was still losing ground, but not as fast. Rich looked back with a "can you believe this?!" look in his face. Finally, I thought, "wow, I have got to get some positive boyancy" to offset this "liquid wind" that was blowing us to where we did not want to be. I started filling my BC as fast I could...I poured enough air into that thing to normally rocket to the surface. Finally...slowly, I started rising as I kept swimming directly toward the wall (even though I was only a few feet from it). I got up on top of the underwater river (current) and glided to a lee where I could rest. The other guys, literally swam and climbed the wall to get through it and burned a huge chunk of their air. After that encounter, we cruised through the rest of the dive and saw some spectacular things. We all know why Verde is rated as advanced diving and I felt like I earned my stripes on that one. We all relayed our experience to our dive master, Ambo. He had his hands full taking care of one of the lady cops who in fact was a novice diver. To his credit, he took her through a different route (we did not know he had, or that the alternate route existed) and managed to miss all the excitement. The other guys were flabberasted at the speed and ferocity of the current and basical ly said they swam though it. I told Steve and Ambo about the inflation technique I used as I "swam" towards the lee....Ambo, said that was exactly the right thing to do. Even Steve-o was a little sheepish on that one. Steve said he never encountered anything like that in his life. Anyway, we all reveled in the beauty of the place and the achievement of dealing with unknown extreme conditions.

Our third and last dive of the day was even more intense. However, this time we charted and fully planned our approach to a site known as "Washing Machine". If you can picture a sloping array of three ridges and valleys with a huge river of water, running through the "slots" that is Washing Machine. We approached perpendicularly from the side, at the bottom of the ridge. Just like the prior dive, as soon as we turned the corner we were met with a storm of water sweeping anything not tied down away. At least this time, it wasn't driving us into the sea floor, but rather out to open water. We each kicked as hard and fast as we could and took shelter in the lee at the bottom of the trough. As soon as everyone gathered and caught their breath, Ambo gave us the signal to attack the next ridge...up and over and then "blown" down the chute until we could find a lee and a hand hold. Once again, we rested and then up and over. We did this three times, and finally found a nice calm spot behind a large area of the ridge. Once everyone was assembled, we stuck our heads up and were all "swept away" into the open ocean just as planned. The whole dive lasted about 45 minutes. We all made our safety stop in open water, but were riding a huge current. Our boat swung over and skillfully picked us all up. Wow...what an experience!! This was an E-ticket ride if there ever was one. After the dive, beers were passed around the boat to all for a celebration toast. Short of a highly technical deep decompression dive, this was probably one of the most technically demanding dives I have ever done. We had excellent guidance and instruction and thoroughly enjoyed the "ride". I have to say though that after an entire day on a boat and diving etc., my body is still moving as I sit here...I guess I will sleep well tonight
So...today (Saturday here) is my last day of diving in the Philippines. I'll be back at my post for work on Monday. "Talk" to you then. Warn regards from the Philippines to all my B.com friends